In today's globalized world, the demand for innovative yet cost-effective products has reached new heights. Customers, now more than ever, are not just looking for products—they're searching for experiences, stories, and designs that resonate with their tastes and budgets. The Story of Alex & his Globally Approved Formula 2.0 aims to provide a compelling solution to the burning desire for a well-designed, globally aligned product with a budget-conscious approach.
A Curious Look at the Book
What makes this book stand apart is its storytelling prowess. It's not just another manual or a guide—it's a narrative. A story that evokes emotion, stirs motivation and inspires action. It's a testament to the fact that with the right approach, any brand, regardless of its size or budget, can carve a niche for itself.
The intention behind this book
The very intention behind this book is to:
• Convey its readers that true success is not about personal recognition, but about making a lasting impact on the industry and the lives of people
• Help the readers embrace their curiosity, nurture their passion and the courage to challenge the established norms and pre-conceived notion
• Provide its readers an invaluable resource for global clients in search of well-designed products
• Empower its readers with products that not only meet Global Trends but are also cost-effective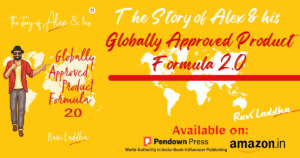 For Whom is This Book?
Budding Product Innovators and Designers: If you're just starting out in the world of product design and innovation, this book will give you a roadmap. Follow the journey of ALEX and uncover the secret 5.5-step process that can set you on the path to success.
Brand Owners and Entrepreneurs: Understand the intricacies of creating products that not only resonate with global customers but also are aligned with budget constraints. Leverage this framework to scale your brand in diverse markets.
Business Students and Academics: Delve deep into a narrative that is more than just a story. It's a case study of successful product innovation and brand establishment in today's competitive landscape.
Industry Professionals: Even if you've been in the product design and innovation sector for years, ALEX's journey and the showcased customer successes can offer a fresh perspective and perhaps introduce you to some strategies you hadn't considered before.
Curious Minds: If you're someone who's always been fascinated by how great products are made, and how they can be both trendy and budget-friendly, this book offers a gripping narrative to satisfy your curiosity.
No matter where you are in your professional journey, if you have a passion for design, innovation, and the stories behind successful products, this book is for you. Dive in and discover how to turn ideas into globally acclaimed, wallet-friendly masterpieces.
What is the Takeaway?
This book is a must-have book for all those who aspire to achieve success and establish a strong brand presence. It is an invaluable resource for global clients in search of well-designed products that not only meet Global Trends but are also cost-conscious.
About the Author
Having a diverse background in engineering, corporate jobs, and teaching, Ravi Laddha has enjoyed an inspiring journey as the Managing Partner of ARTASIA, a manufacturer and exporter of Solid Wood Furniture and Home Décor Products for the past 24 years. ARTASIA's business caters to B2B customers globally, reaching 35 countries across multiple continents. With a commitment to excellence, he has gained recognition for delivering top-notch products and providing exceptional service to his clientele.